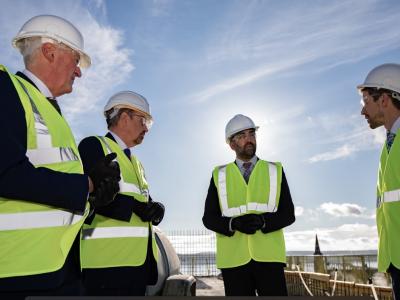 Scotland's First Minister has visited a multi-million pound centre that will build on Dundee's standing as a world leader in health and life sciences research.
Humza Yousaf MSP toured the site of the University of Dundee's Life Sciences Innovation Hub, a brand new £40 million facility that will anchor a new generation of high-growth companies and high-value jobs in the city.
The Hub, scheduled to open in 2024, will support high-growth health and life sciences companies, including spinouts from the University, in translating scientific innovation into new therapies, technologies, and treatments for public benefit. Building on the University's global reputation for excellence in health and life sciences research, the facility will host flexible chemistry and biology laboratory space, allowing fledgling companies to grow at speed, attracting inward investment and bringing new, high-quality jobs to the city.
First Minister Humza Yousaf said, "The University of Dundee is rightly world-renowned for its excellence in life sciences, and once completed this Innovation Hub will provide a specialised space which will support high-growth spinouts to maximise their potential.
"The £25 million the Scottish Government is contributing to the university to fund its construction and support other projects will have benefits far greater in magnitude than the initial outlay, and I am excited to see the progress as it takes shape. Over the next ten years, it's anticipated the Hub will help create up to 280 new high-quality jobs, and the overall Tay Cities Region Deal is forecast to stimulate £400 million of further investment in the region."
Professor Iain Gillespie, Principal and Vice-Chancellor of the University, added, "It has been a pleasure to welcome the First Minister to view the site of our Life Sciences Innovation Hub.
"The Hub will help translate ground-breaking research into successful companies that will exploit discoveries made in Dundee globally - with particular benefits across the spectrum of human health and wellbeing. The Hub will importantly also anchor high value jobs in the city, bringing economic benefits for our region, but also for Scotland as a whole, which has committed to Health and Life Sciences as one of its key economic clusters.
"It is fitting that this Hub is located next to our recently opened Centre for Targeted Protein Degradation (CeTPD), which is exploring revolutionary new approaches to drug discovery and development. CeTPD and the Hub will together be the cornerstones of our long-term vision for a Life Sciences Innovation District to power Dundee's economic future."
The Life Sciences Innovation Hub forms the heart of the Tay Cities Biomedical Cluster project, an investment of £25 million from the Scottish Government into the University as part of the Tay Cities Region Deal. The establishment of the Life Sciences Innovation Hub has also been supported with philanthropic awards by the Wolfson Foundation and the Garfield Weston Foundation, as well as significant investment from the University.
The cluster project is projected to attract inward investment, leading to the creation of sustainable jobs and training opportunities. An independent assessment of the project predicts that more than 800 jobs will be created as a result of the project by 2053, bringing a financial benefit of more than £190 million to the local economy.
The University is already recognised for its success in forming high-growth spinout companies, having been named as the UK's best in this field by Octopus Ventures in a major report earlier this year.
Dr David McBeth, Vice-Principal (Enterprise & Economic Transformation), said, "We have worked hard to establish Dundee as a fertile ground for spinout companies.
"By championing entrepreneurial researchers, and fostering great relationships with investors, we have been able to provide springboards for several companies, including high-value success stories such as Amphista Therapeutics, Exscientia, and Tay Therapeutics. 
"The Life Sciences Innovation Hub will greatly accelerate creation and growth of more successful spinouts, including from other universities and institutions in the region. The Hub will also attract early stage companies from other areas that want proximity to ground-breaking research from the universities and research institutes in the Tay Cities region."
Professor Sir Mike Ferguson, Regius Professor of Life Sciences at Dundee, added, "The Life Sciences Innovation Hub is a realisation of the commitment the University has made to growing the biomedical industry sector, creating new jobs and opportunities here in Dundee and in Scotland.
"We already have a proud track record of producing successful spinout companies. This facility will allow us to establish a pipeline that capitalises on the quality of the research we conduct here, translating that into social and economic benefits for the region and to the health of people around the world."
Councillor John Alexander, Leader of Dundee City Council, said, "The Tay Cities Region Deal is not only invigorating the area by encouraging and supporting new developments, but also building on existing strengths in the local economy.
"Life sciences is one of the areas where we have been leading the way for many years. Our city's academic research and development is world-leading, and we have had great success in attracting significant venture capital into new companies.
"Dundee already supports around 1,700 roles in life sciences, and the new Innovation Hub will offer greater opportunities for collaboration and economies of scale to turn research into business, secure investment and create even more employment.
"This is an important development as we work towards our shared vision for strong, creative, smart and sustainable Dundee economy with jobs and opportunities for all."