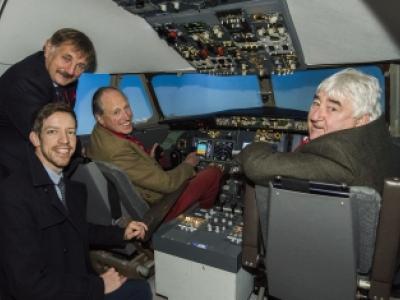 A pair of cutting edge projects forming part of the multi-million pound Tay Cities Deal bid have played host to some of the area's top politicians.
City Deal leaders from the region's councils gathered at the James Hutton Institute in Invergowrie to explore the potential benefits of the Advanced Plant Growth project
Councillors John Alexander of Dundee, Bob Myles from Angus and Ian Campbell of Perth & Kinross joined forces at the agri-science research institute and Perth UHI.
Cllr Myles said: "There is so much in the deal bid for the people of the region and I am pleased to say that the potential for Angus and the region generally is substantial. We are working closely together to make sure we get the best deal possible."
Cllr Alexander said: "It's essential that we get out and see these ambitious projects in the flesh, to better understand their local impact but also to understand the potential for economic and job growth. It's fair to say that some of these have a national and even international impact. Tayside has incredible academic institutions and a range of innovative businesses working out of it, but we need to keep ahead of the curve
Cllr Campbell said: "Our region has considerable expertise to offer with which to create a smarter and fairer Angus, Dundee, Fife and Perth & Kinross and these projects amply demonstrate that. The visits today have reinforced my view that this region can deliver something very exciting.
Fife's Tay Cities Deal lead Cllr Karen Marjoram added: "These and the other key projects in the Tay Cities bid provide a platform to project our influence and expertise. They will enable the region to grow and become even more attractive for inward investment."
At the James Hutton Institute the group were given a tour of the new facility currently under construction and learned more about the Advanced Plant Growth project. The project is seeking funding to develop a cutting edge facility that can act as an academic and commercial test bed for the future success of the industry.
It has a potential global reach, seeking to provide sustainable and innovative solutions to the current and future challenges faced in the agricultural sector.
Later in the day plans for the Aviation Academy for Scotland spanning Perth and Dundee were discussed. A first of its kind for Scotland and based on the needs of employers locally, nationally and internationally it is slated to provide education and training opportunities in key aviation skills areas.