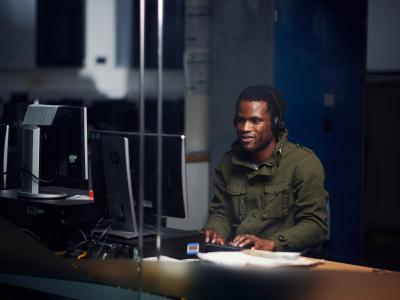 Three projects that will significantly enhance rural broadband and cyber security across Tayside while creating new job and enterprise opportunities have today been given full approval.
The Tay Cities Region Joint Committee has approved both the Angus and Perth & Kinross High Speed Broadband programmes and the cyberQuarter project, led by Abertay University in Dundee.
In a major boost to Tayside, the two rural broadband projects are aimed at providing gigabit speed digital connectivity to over 150 public buildings to help develop knowledge intensive businesses across the region. This has been made possible by £5.9 million of UK Government funding, including £2 million from the Tay Cities Deal and a further £3.9 million from its Local Full Fibre Network (LFFN) programme.
The cyberQuarter is designed to attract existing cyber security firms to the Tay Cities Region, support the creation of new companies, boost the security and resilience of the Scottish business community and facilitate the creation of new products and services through innovation-led research. The Scottish Government will commit up £6 million and the UK Government up to £5.7 million to the project, with Abertay University the other main funder.
Economy Secretary Kate Forbes said: "I'm delighted that these projects have been given the go ahead by the Tay Cities Region Deal. Over the last year, we have seen the invaluable role of digital connectivity in modern society. Our support for the cyberQuarter project at Abertay University will enable innovation in this crucial sector, building on the region's expertise to support research, create new businesses, and deliver high quality jobs.
"I'm particularly pleased to see inclusive growth at the heart of the University's plans, both their commitment to ensuring local residents benefit from the jobs they will create, and their efforts to close the gender gap in the cyber security sector."
UK Government Minister for Scotland Iain Stewart said: "From boosting digital connectivity to promoting Scotland's cyber security expertise, it's great to see Tay Cities Deal projects supporting jobs, businesses and communities.
"The UK Government is investing more than £1.5 billion into City Region and Growth Deals across Scotland, helping to build back better from the pandemic."
Leader of Angus Council, Cllr David Fairweather said, "As a predominantly rural county, we recognise the challenges that poor digital connectivity brings to residents and businesses. We were already taking full advantage of existing UK and Scottish Government funding schemes, but this is a major boost to our ambition of expanding our fibre connectivity, particularly to our more remote communities.
"This funding will significantly increase Angus Council's ability to facilitate high speed digital connectivity throughout Angus allowing more of our residents and businesses to fully participate in the digital world that has proved so vital during the pandemic. It also provides the necessary infrastructure which supports our burgeoning technology sector providing high quality, sustainable jobs across Angus."
Councillor Murray Lyle, Leader of Perth & Kinross Council said: "The delivery of the Perth and Kinross Rural Broadband project will allow businesses, schools and residents across rural Perth and Kinross to take a huge step forward in terms of their digital capability. Rural connectivity has been a long-standing issue; and has never been more apparent than in the last year and a half when we were so reliant on being connected to be able to work and learn from home.
"The economic potential that these three projects bring to the Tayside region is truly exciting and inspirational; and is the beginning of businesses being able to reach their full potential in terms of digital capability. The opportunities that will be available once the Highspeed broadband project has been delivered could be life-changing for some businesses."
Rural Angus and Rural Perth and Kinross Highspeed Broadband
While many premises have access to superfast broadband it is mainly delivered by Fibre-to-the-Cabinet (FTTC) technology.  Superfast broadband is fast enough for most household uses today, but growing data demands – particularly since Covid-19 - are pushing the limits of superfast broadband infrastructure.
As part of the £700m Tay Cities Deal agreed in November 2018 the UK Government committed up to £2 million to developing Rural Angus and Rural Perth and Kinross High Speed Broadband. These projects will enhance digital connectivity to schools, libraries, leisure centres and other public buildings in rural areas across the region to push full fibre technology to more premises.
The Rural Highspeed Broadband project is part of the Connected Tay theme within the Tay Cities Deal. This theme recognises the critical importance of improving digital and transport connectivity across the region to allow people better access to jobs and training, and to unlock the full economic potential of the region. This has been further accelerated during the Covid-19 pandemic where home working, video conferencing and use of digital communication rather than social interaction has become part of everyday life.
BT is delivering the connections to rural buildings across Angus and Perth and Kinross and SSE (now NeosNetworks) are delivering the project in Perth. 
cyberQuarter
There is a significant global shortage of skilled cyber security graduates and the cyberQuarter will offer companies access to the best student and graduate talent from Abertay University's Division of Cyber Security, which was recently recognised as Scotland's first gold-level Academic Centre of Excellence in Cyber Security Education by the National Cyber Security Centre (part of GCHQ). Students coming from Abertay's partner colleges and through upskilling/reskilling routes will also benefit from the cyberQuarter.
Professor Nigel Seaton, Principal of Abertay University and Chair of the Tay Cities Higher and Further Education Forum said: "The cyberQuarter has the potential to establish Dundee as a significant UK cybersecurity hub, adding a new dimension to the city's reputation for excellence in technology.
"We have seen, through the expansion of the Dundee video games sector, that great things can happen when industry expertise is mixed with academic research, a strong graduate talent pipeline and enterprise support. The cyberQuarter will provide a hub where this type of collaboration and innovation can thrive."
Scottish Enterprise Head of Digital Economy, Ian Blewett, said: "The cyberQuarter is an important asset within the growing network of digital companies and projects in Dundee as well as the wider Scottish tech ecosystem. The proposed cloud infrastructure capabilities, collaborative R&D activities and skills development plans will provide new opportunities for digital businesses to grow and access essential skills. Scottish Enterprise has supported the cyberQuarter project alongside Scottish Government and I look forward to seeing the project take shape as it also links to collective work taking place to level up and scale up the digital tech sector across Scotland."  
The Tay Cities Deal is a partnership between local, Scottish and UK governments and the private, academic and voluntary sectors which seeks to create a smarter and fairer Angus, Dundee, Fife and Perth & Kinross under the headings Inclusive Tay; Innovative Tay; International Tay; Connected Tay and An Empowered Tay. In total, the 26 projects submitted require investment of £700 million of which £300 million over 10 years is being put in by the UK Government and Scottish Government, subject to final approval of robust business cases. If every project and programme set out in the submission is funded and delivered, up to 6,000 job opportunities could be created across the tourism, food and drink, creative industries, eco innovation, digital, decommissioning, engineering, biomedical and health and care sectors.
Up to £1 million is committed to the Rural Angus Project, which will focus on:
£0.5 million - creating a solution to provide remote and rural farm properties with high quality wireless connectivity
£0.5m - for full fibre connectivity to over 50 buildings in Angus towns and rural areas as a local contribution to £2.9m of DCMS LFFN funding for Public Sector Building Upgrade (PSBU) connections.
Up to £1 million is committed to the Rural Perth and Kinross project, which will re-use and extend existing fibre broadband between Perth city centre and new developments to the west of the city. This will connect more than one hundred rural premises, including rural primary schools, secondary schools, libraries and museums to the latest gigabit capable connectivity. The funding is split between two projects:
£0.53m - for full fibre connectivity to 105 rural premises as a local contribution to £2.9m of DCMS LFFN funding for PSBU connections
£0.47m - for full fibre connectivity to 33 premises in Perth city as a local contribution to £1.1m of DCMS LFFN funding for Public Sector Anchor Tenancy (PSAT) connections.
The cyberQuarter will be housed in a refurbished space on Abertay University's campus on Bell Street, Dundee. For more information on the cyberQuarter, including how businesses can get involved, visit the Abertay University website.