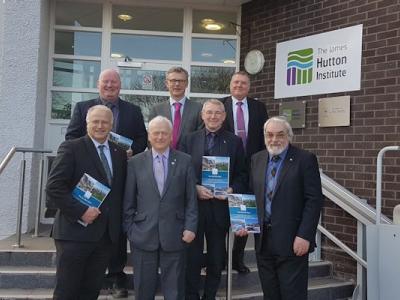 MORE THAN £1.8 billion of planned investment will form the basis of the Tay Cities Deal which could create up to 15,000 jobs for the region.

Among over 50 projects included in a submission document revealed today (FRIDAY) at the James Hutton Institute is an ambitious scheme to bring a massive employment boost through oil and gas decommissioning.

Set out as a series of "asks" and "offers" across 100 pages, the Tay Cities Deal submission lists opportunities and challenges for the Angus, Dundee, Fife and Perth & Kinross economy over the next 20 years and details how investment will help the region become fairer and smarter through inclusive growth.

The total cost of the proposed investment is £1.84 billion of which £826 million (45%) over 10 years is being sought from the Scottish and UK governments and their agencies.

If every project and programme set out in the submission is funded and delivered, as many as 15,000 job opportunities could be created across tourism, food and drink, creative industries, eco innovation, digital, decommissioning, engineering, biomedical and health and care.

The document emphasises that: "The city deal is as much about offering to work differently together and with both governments as it is about seeking additional cash resource."

Provided that new or additional powers are devolved to the four local authorities they say they could take on additional responsibilities more efficiently and at the right scale.
For example the councils confirm they will work with each other and with partners across the region to strongly focus on actively managing the performance of the whole employability and skills service.

They also want to work with employers to develop career pathways for existing employees, with the focus on opportunities created by job turnover and through that to make the region fairer.

The leaders of the region's four councils gathered at the agri-science research institute in Invergowrie for the submission's formal launch.

An advanced plant growth centre and an international barley hub, both of which will involve significant input from the institute are among deal projects.

Iain Gaul leader of Angus Council said: "The Tay Cities region will be successful for everyone who lives here. By working together, public and private sector partners can deliver this ambitious, creative and forward thinking programme."

Ken Guild, his Dundee counterpart added: "Anchored in new and exciting ways of delivering services we are going to create a region that is inclusive, innovative, international and connected creating growth that combines increased prosperity with greater equity; the kind that creates opportunities for all."

David Ross, Fife Council leader, said: "The opportunity to negotiate a tailored deal represents a once in a generation opportunity to deliver on the Tay Cities Regional Economic Strategy and, in turn, to improve economic outcomes for everyone across the whole region."

Ian Miller Perth & Kinross Council leader went on: "Our submission also has an unprecedented focus on cultural regeneration, supporting Perth's bid to be UK City of Culture 2021 and Dundee's bid for European Capital of Culture 2023.

"In addition we want to create opportunities for people in work to progress as well as easing restrictions on access for new entrants to the jobs market to support our ambition of smarter, fairer growth through collaboration."

Taking up the theme Ellis Watson chief executive of DC Thomson Publishing who chairs the cities deal regional business group, added: "The success of this hinges on the creation of long-lasting partnerships. It is these partnerships that will ultimately deliver sustainable change for people living and working in the area "

Professor Sir Pete Downes, Principal of Dundee University and chair of the Tay Cities Deal higher and further education forum concluded: "As a result of the projects outlined in this submission the Tay Cities region will be a much more desirable place to learn, live and invest."

Cabinet Secretary for Economy Keith Brown said: "Cities and their regions play a crucial role driving economic growth which is why the Scottish Government is working individually and collectively with Scotland's cities, regions, businesses and people to boost this growth.

"It's fantastic to see the local authorities working collaboratively to bring together this proposal. This partnership approach has been clearly demonstrated through the region's asks and proposed innovative projects. We will continue to work closely with the councils to understand and help develop their ambitious proposals."

UK Government Minister Andrew Dunlop added: "The UK Government is fully behind a Tay Cities Deal, as was made clear by the Chancellor in his Autumn Statement.  We look forward to working through the detailed proposals with partners.

"Boosting the economy of the region will bring new jobs and infrastructure improvements which will benefit everyone.

"The UK Government is committed to delivering a UK Cities Deal for each of Scotland's seven cities.  We look forward to working with the Tay Cities partners."

Among the 56 projects structured around inclusivity, innovation, international, connectivity and empowerment that make up the Tay Cities Deal submission is:


Dundeecom a private/public partnership aimed at creating a major centre in Scotland for oil and gas decommissioning pulling together the regional assets of Dundee, Montrose and Methill (Port and Energy Park Fife);
developing cultural and heritage tourism assets including the creation of The Comic Centre, the UK's first purpose built permanent comic-based centre/visitor attraction and increasing the ability of Arbroath's Hospitalfield to become a world class facility for cultural ideas and production;
International Aviation Academy, Dundee. A first of its kind for Scotland based on the needs of employers locally, nationally and internationally providing education and training opportunities in key aviation skills areas;
Cultural transformation projects in Perth, including transforming Pitlochry Festival Theatre into a centre of performance excellence; a £30 million capital investment in Perth Museum and Art Gallery and a new cultural attraction at City Hall; and the Perth 2021 UK City of Culture Bid;
increased investment at the University of St Andrews' Guardbridge Eden Campus, which will create the UK's first energy carbon neutral university, and enhance Scotland's position as a leader in both sustainable development and biotechnology;
a regional logistics, fulfilment and business innovation park in Perth;
marine tourism infrastructure at St Andrews, Tayport and Newburgh to support the region in its aspiration to deliver a world class tourism offer;
the Cross Tay Link Road which will unlock development land in and around Perth and enable the planned and sustainable growth of the city;
a Montrose to A90 investment corridor which will enable the delivery of infrastructure to support a major growth opportunity in North Angus; and
establishing the Tay Cities Region as the location for the cybersecurity sector in Scotland.
The Tay Cities Deal submission will be discussed at Angus, Dundee, Fife and Perth & Kinross councils over the coming weeks and the final document submitted to both governments by the end of the month.